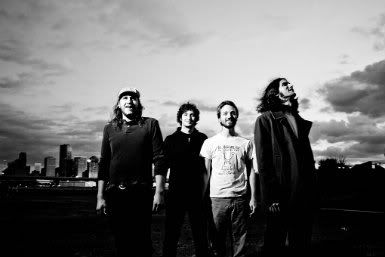 Jody Seabody & The Whirls, how do I begin? It was almost instant that I became a fan. These guys, hailing from Katy, have an electrifying sound that if played in the morning will start your day off right. I know this from experience. I found myself sitting in the coffee shop in my own world, dancing to their song "Doll"(…which I believe is about a blow up doll?) Yeah so that totally happened and I plan to be front row at their Summer Fest performance. No worries, I'll be throwing up my "H" in the air so you know it's me! Take it away Jody Seabody & The Whirls….
The name, I hate to be so cliche, but I've gotta know how the name came to be.
Well, we were teenagers trying to come up with something that was completely unique; a name that we would never ever hear of anyone ever using since the dawn of band names. We spent a good 3-4 hours brainstorming before our friend and ex-bandmate Carl blurted out the name 'Tony Seabody & the Whirls'. A week later we were filling out a form to enter a battle of the bands and we needed a name so Clint wrote down 'Jody Seabody & the Whirls' and it stuck. It was really only going to be a temporary name at first but we couldn't shake it, nor could we think of anything better. It's much less of an interesting story than one might assume, but I haven't made up a bullshit one yet, and I wouldn't want to do that to you anyway, so you get the real story. The bare bones, if you will.
I know it's been tough for you guys with the untimely passing of Matt Johnston, your bass player, last year. How has the incredible loss affected you as a band and the upcoming release of your first album, Summer Us?
It had all of the obvious, cliche affects that everyone would expect, you know? We weren't sure if we wanted to continue as 'Jody', and we weren't sure what we would do musically otherwise. We missed and still miss our brother. There was a little bit of a culture shock at first, suddenly not having a band. It freaked us all out, and we were most definitely lost for a few months. I personally thought that 'Jody Seabody & the Whirls' was done. I couldn't see it working without Matt. Nobody plays bass like him. If you look up 'Matt Johnston's Bass Lines' in the dictionary, it's defined as 'What every other bassist to ever exist tried to achieve'. No joke brah, pinky swear. So, of course there were issues with going on without him. Eventually, however, we came to the conclusion that it would be wrong to let the album sit and collect dust without ever giving it a chance to be heard. Matt put everything into this band and went against the wishes of many to be in this band, so we would pretty much be dicks to not release something that he put so much work into. So we recruited Dylan to play bass for these shows coming up and for however long he wants to play with us. He was already a friend of ours, so that makes it that much more healthy for us moving forward.
When did you decide that you wanted to make music? Was there a definitive moment?
Clint and I started the band when we were 14, and music was always it for us. We were already doing theater and band and all that in school and I think that was just holding us over until we figured out that music was what we really wanted, and that we could do it ourselves. Dave, I know for sure, was the same way, as was Matt. All of us were making music before we even realized it was something to 'do' or whatever.
What is the best and worst thing about being a Houston based band?
The best thing about being a band in Houston is that you aren't as much a dime a dozen as you are in Austin or other 'music towns'. The people in the business here aren't too busy to deal with the bands personally yet, for the most part. The scene here feels much more close-knit than it does in other cities we've played in. Houston has yet to be infiltrated by suits from LA or NY, and that's very refreshing. I can't think of a 'worst thing' off the top of my head because I haven't really had any complaints about playing in this town, or, at least if I do, then I don't dwell on them because playing is such a positive experience in the first place that it's pretty much impossible for me to feel anything negative by the time our set is over. One bonus that I just remembered about playing here though is that in H-Town, one can throw his or her "H" up, which is something that no other town has. Not even Humble, because they don't pronounce the "H". Ain't no one taking anyone serious about throwin' up no "silent H".
Who are you looking forward to watching perform at Summer Fest 2012?
Primus for sure, but we might be playing at the same time as them, I'm not sure. Also David Liebe Hart is playing the Super Happy Fun Land stage and I most definitely want to check that out. I am curious to see what his show will entail. Valient Thorr fo sho, and The Flaming Lips doing Dark Side of the Moon is a must. And of course Willie and Snoop.
See Jody Seabody & The Whirls perform live at Summerfest
Day 2
Stage: SHFL
@ 4:00