Happy Friday internets ;) What a beautiful day to be in Houston wouldn't you say? Just incase you have some time off this weekend and are looking to fill up your senses with some good stuff I have a few suggestions for you…
Fri & Sat @ Midnight, Fight Club Showing at River Oaks Theatre
Perfect movie for the guys and super perfect for the girls. This is Brad Pitt at his finest! Get your popcorn and Sour Patch kids, make sure you take your bathroom break ahead of time cause even though we all know what happens, you just don't want to miss anything…..

  Saturday @ 9:30, M2M Fashion Show                                                      Spring Temptation                                                                                 Fashion Show                                                                  
Benefitting BCBC & Bunnies On The Bayou
Party @8:00, models walking promptly @ 9:30  
Alice Neel: Painted Truths, Showing  @ MFA Houston through June 13th
     "Having consciously set out to chronicle the zeitgeist of her time, Neel painted friends and family, as well as the celebrated artists and writers of her day, such as Andy Warhol, Frank O´Hara, and Meyer Shapiro."
   
 Saturday, Acoustic Jam starting @ 10:30AM, Last Concert Cafe
Grab your guitar, a bongo, a moaraca (anything!) and go get down in the sand at Last Concert. When you work up an appetite from all the dancin', step inside for a delicious Sunday meal that is sure to end your weekend so perfectly right.
…..mark your calendars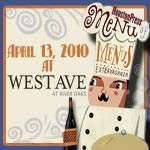 Houston Press Menu of Menu's is coming up April 13th.  30 Houston area restaurants to sample and all the beer and wine to go with it. Buy your tickets as this is something you DO NOT want to miss!